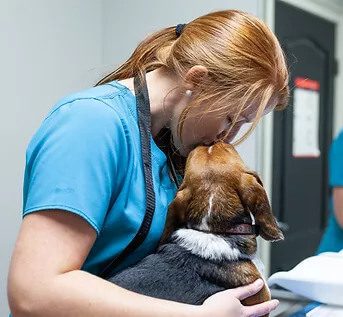 Are you looking for a family? We pride ourselves in having the following values:
Family: Every pet and every owner get treated the same way we would treat our own pets and family members.
Honesty/Integrity: All of our actions are governed by honesty and integrity.
Excellence: We do everything to the best of our ability, because your pets deserve our best.
Honor: We treat each patient, client, and employee with the highest respect.
Education: We are dedicated to life-long learning and believe we should never stop improving.
Teamwork: When one of us wins, we all win. When one of us falls, we all fall.
Compassion: We don't serve out of obligation, but rather, are compelled by compassion
We are looking for a friendly, enthusiastic, motivated individual to join our team. This individual will work with clients and pets one on one to ensure patients receive the best medical care possible and that clients feel like a part of our family.
RESPONSIBILITIES:
Gathering medical histories from the pet owner.
Gathering vitals from the pet.
Using PMS to add client charges.
Assisting doctors by starting medical notes.
Filling prescriptions.
Assisting the doctor in the room with examinations and other treatments.
Collecting and reading in house laboratory samples.
Placing IV catheters, taking radiographs, and administering injections.
Monitoring surgeries.
Anesthesia induction and recovery.
Stocking supplies, cleaning, caring for pets such as walking, feeding, supplying water, medicating, etc, providing client education, plus much more!
EXPERIENCE:
Minimum 2 years experience in similar role required.
Registered Veterinary Technician preferred.